Make the Impossible, live on the Plateau!
> Merge live shots and live CG images.
> View the overall image during filming, not after.
Why Adopt VFX in Real Time?
> Artistic freedom: Evolve as on a traditional stage, but with the magic of digital.
> Cost Optimization: Significant reduction in post-production costs through real-time preview.
> Instant Vision: Direct preview of the final rendering for unlimited creativity.
Advanced Technology: EzTrack System
> Precise positioning thanks to the tracker in the virtual universe.
> Collaboration with UNREAL ENGINE for flawless 3D rendering.
> Extended compatibility with a variety of cameras with SDI output.
Two Modes for Two Needs
> Previz On Set: For a brief live view, and savings in post-production.
> VFX On Set: Broadcast-ready effects, ideal for HD formats.
→Interested? Contact us for more information or to schedule a demo.
example of a 3D Real Time VFX set
show TV  "Justice en France" on the TV channel France 3
Real-Time VFX Technology: Innovation at the Service of

the Audiovisual


The Concept: Fusion of Real and Virtual
Thanks to the adoption of a video game engine, Studio 51 offers you the possibility to merge real-time shots with CG images directly on the film set. This technical feat allows the entire team to visualize the overall image from the filming phase.
The Real-Time Revolution
With the significant advances of real-time engines, inspired by the world of video games, we can now offer special effects in real time during filming. This gives the director a clear vision of the final rendering or directly produces the final effect for the broadcast.
Our technical system offers a preview of the combination of real and synthetic images being captured and calculated. The real-time engine also drives the elements of the virtual scene during filming, opening up new creative dimensions.
The Multiple Advantages
1. Artistic Freedom: Gives the director and technicians the chance to operate as if they were on a real stage.
2. Precise Control: Allows the chief operator to control the image as a whole and the head decorator to precisely manage digital extensions.
3. Post Production Optimization: Accurate filming data facilitates post-production work.
4. Cost Effectiveness: Significant reduction in post-production costs through real-time preview.
5. Complementarity: Integrates perfectly with real scenery, unblocking inhibitions often related to VFX.
Previz On Set vs. VFX On Set
Depending on the needs, our system adapts:
– Previz On Set: A brief vision during filming, which does not eliminate post-production but allows significant savings.
– VFX On Set: Produces directly ready-to-play rigged plans, ideal for HD formats.
Advanced Technology: The EzTrack System
The EzTrack system consists of a tracker that accurately positions the camera in the virtual environment. It works in harmony with the UNREAL ENGINE real-time engine to calculate a perfect 3D rendering and to compose the virtual image with the real shot.
Compatibility and Configuration
Suitable for all cameras with an SDI output, our system simply requires a green background on the board and base tracking station. It produces various files essential for simplified post-production, including tracking files and alpha-layer recordings.
—
By integrating this innovative technology into the traditional audiovisual landscape, our goal is to work closely with industry players to revolutionize the world of visual effects. Join us in this technological adventure!
Contact us
Tell us
about your project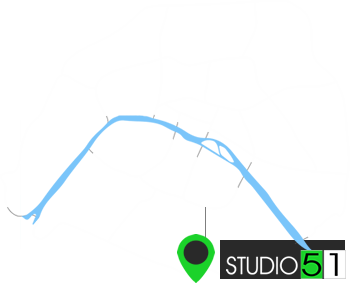 Studio 51
51 bis, rue Raymond Lefebvre
94250 Gentilly, France
Pte Gentilly lmt Paris 14ème
Studio annex
56, rue Raymond Lefebvre
Access
Vehicle access
Périphérique Porte de Gentilly, 300m
Accès A6, 300m
Public transport

RER B Gentilly, 70m
Tramway (T3) Stade Charlety, 400m
Bus 57, V5 et 125
Studio 51 © 2022. All rights reserved.