Revolution of the audiovisual industry by the AI : the future of the green screen 3D real time filming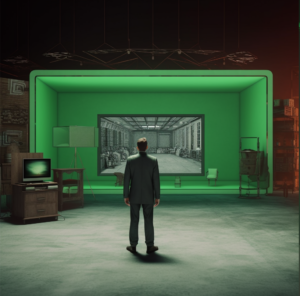 In the actual era of numerical transformation, artificial intelligence (AI) is constantly refunding the sector, including the audiovisual's one. From now on, with the fusion of AI and the technology of green screen 3D real time immersive studio filming, we are witnessing a revolutionary change in the directing of movies and the televisual productions. 
The AI, key actor of innovation in the audiovisual sector
The AI has begun a key actor in the audiovisual industry, offering a large number of tools to improve creativity and efficiency. In all the aspects of this industry, from pre-production to shooting, the AI permits a level of innovation and precision unequaled.
The future of filming technology : The green screen 3D real time studio
The shooting on green screen has been propelled to another level with the advent of 3D real time immersion. This technology offers the directors the possibility to see and interact  with the numerical environments in real time during the filming, which opens incredible horizons for the creation of fantastic worlds and alternate realities.
The AI and the real time filming : a revolutionary synergy
The combination of AI and the technology of filming in green screen 3D real time immersive studio represent a revolution for the audiovisual industry. Because of AI, the images shot on a green screen can be analyzed in real time, which permits an immediate correction of the errors and a constant amelioration of the image quality. Furthermore, the AI is used to create photorealistic numerical actors that can interact with the environment in real time, making the shooting more fluid and dynamic.
While we are entering a new era of innovation in the audiovisual sector, artificial intelligence  and the technology of green screen 3D real time filming revolutionize the sector. The possibilities are endless, promising an era of creativity and experimentation unprecedented.
The studio 51 possesses a green screen movie set of 100m² and can host a great variety of filming. The studio is an expert of VR AR production and has a team mastering the 3D real time technology which permits to exploit the full potential of the green screen movie set.
Photo credit :
The image is done by an AI tool called MidJourney.
#Studio51 #ArtificialIntelligence #3DRealTime